Air Water Sustainability vision For The Year 2050
Sustainability Vision
Achieve a recycling-oriented society through coexistence with society and the earth.
Continuously provide economic and social value by flexibly responding to environmental and social changes

Advocating for a society committed to recycling by adopting relevant corporate initiatives, reducing environmental impacts to zero, and helping to revitalize the global environment.

Ensuring employee well-being* and positioning ourselves as the first choice of local communities and customers.
*Well-being is the state of being physically, mentally, and socially comfortable. In addition to being happy (through health management), it represents a condition in which employees live with a sense of purpose through a range of different work styles and platforms to succeed.
CSR
Sustainability and CSR at Air Water India Private Limited
At Air Water India we are strongly committed to contribute to the societal development of the community in which we operate in a sustainable way and hence our emphasis on "Sustainable CSR".
AWIPL has adopted the following two United Nations Sustainable Development Goals (SDGs) –
Quality Education –
"Ensure inclusive and equitable quality education and promote lifelong learning opportunities for all"
Focus on increasing literacy rates in rural areas

Initiative to reduce the primary school dropout rate

Focus on girl child education

Focus on providing affordable vocational training

Focus on increasing the rate of completion of secondary schooling in rural communities
Clean Water and Sanitation –
"Ensure access to water and sanitation for all"
Improve access to water sanitation

Water treatment technologies

Focus on attempting to improve affordable access to clean drinking water

Focus on protecting and restoring water related ecosystems (forests, wetlands, rivers etc)
AWIPL has successfully completed and launched CSR projects in Jharkhand and Bellary
Air Water India Pvt. Ltd. (AWIPL) is committed to creating a profound and sustainable impact on the lives of underprivileged individuals and communities through its transformative CSR program.
Through our recent interventions, we have attempted to initiate the cycle of sustainable engagement by providing basic necessities to 4 schools from lower primary to higher secondary in Bellary district in conjunction with Stierua while coupling it with our strategic partnership with esteemed organizations like PanIIT Alumni Foundation in Jharkhand with the "Pay for Success" Model within the skill development space and subsequent assured employability to the marginalized communities.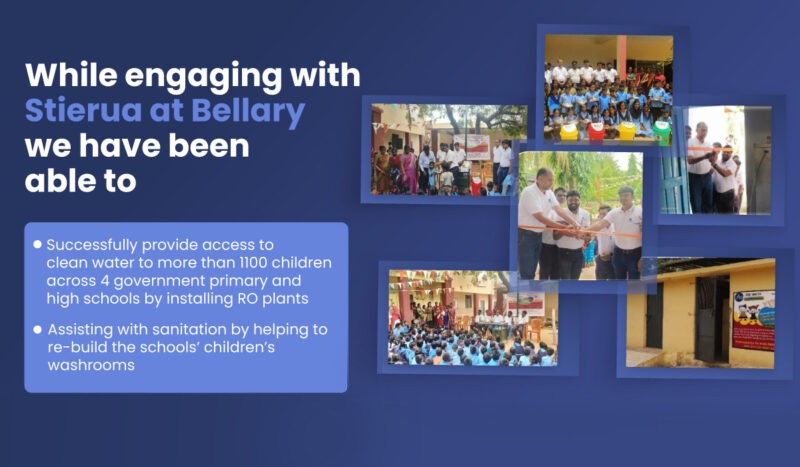 Our CSR Committee, CSR Project Committee and the Working Groups are together working towards the same goal.
Air Water India Celebrates World Environment Day